Estimated reading time: 6 minutes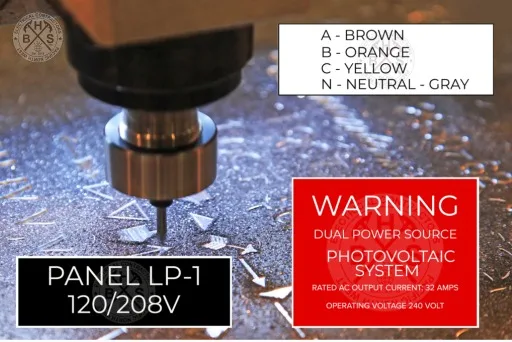 Custom Engraved Phenolic Labels Made Fast Serving King County WA.
We specialize in Catering to the Unique Needs of Electricians, Contractors, HVAC Companies, and Various Industries in Western Washington and the Puget Sound Area.
Welcome to BHS Inc., your trusted source for high-quality phenolic labels and engraving services in western Washington and the Puget Sound area. With a diverse clientele, including electricians, contractors, HVAC companies, and various industries, our mission is to provide top-notch services tailored to your specific needs. Let us show you how our commitment to quality and precision sets us apart in every project we undertake.
Premium Engraving Services for a Wide Range of Industries
Our skilled team at BHS Inc. takes pride in using premium engraving plastic to cater to the specific needs of customers in various industries throughout western WA and the Puget Sound area. We understand the unique requirements of each sector and deliver customized phenolic labels and engraving solutions to meet your needs:
Electricians and Contractors: Our phenolic labels and engraving services are perfect for creating durable and precise electrical labels. We offer custom breaker box engraved labels, custom electrical panel engraved labels, electric disconnect engraved labels, and electric meter engraved labels.
HVAC Companies: We create custom identification labels and engraved control panel labels for HVAC equipment, making it easy to identify and maintain heating, ventilation, and air conditioning systems.
Industrial, Construction, Remediation, and Municipal Water Treatment Companies: We offer engraved industrial equipment labels and engraved plastic labels for electrical applications, ensuring compliance with industry-specific regulations and promoting efficient operations.
Breweries, Distilleries, and Wineries: Our phenolic labels and engraving services help create high-quality labels for equipment, storage facilities, and product identification, contributing to an organized and professional environment.
Builders and Developers: BHS Inc. collaborates with builders and developers in western WA and the Puget Sound area to create custom phenolic name labels, labels, and signage for construction sites, ensuring a safe and well-organized workplace.
Phenolic Engraved Labels for the Electrical Industry
Phenolic engraved labels are a top choice for electricians and contractors in western Washington and Puget Sound. Known for their durability and resistance to chemicals, heat, and moisture, phenolic labels offer unparalleled reliability for electrical industry applications. At BHS Inc., we specialize in creating custom phenolic engraved labels tailored to your specific requirements, ensuring a perfect fit for any electrical installation.
Choose BHS Inc. for Phenolic Engraved Labels and Engraving Services in Western WA and Puget Sound
When you choose BHS Inc. for phenolic labels and engraving services, you can expect exceptional quality, personalized solutions, and dedicated customer support throughout the process. Here's what sets us apart:
Expertise and Experience: With years of experience serving clients in western Washington and Puget Sound, our team has the necessary expertise to create high-quality, precise labels and labels that meet the unique needs of each industry.
Customization and Versatility: We offer a wide range of customization options, including material selection, design, and size, ensuring that your phenolic labels and labels accurately reflect your brand and requirements.
Local Focus: As a proud member of the western WA and Puget Sound community, we are dedicated to supporting local businesses and industries with our premier
phenolic labels and engraving services.
Exceptional Customer Service: Our team is committed to providing top-notch customer service from start to finish. We work closely with you to develop tailored phenolic label and engraving solutions that exceed your expectations.
Your Go-To Provider for Phenolic Labels, Engraving Services
Choose BHS Inc. as your go-to provider for phenolic labels, engraving services, and custom labeling solutions in western Washington and the Puget Sound area. Our dedicated team is committed to delivering exceptional results for electricians, contractors, HVAC companies, and a wide range of industries. Contact us today to discover how our expertise and personalized services can help your business stand out and thrive.
Questions & Answers
To help you better understand our products and services, we have compiled a list of frequently asked questions:
What is a phenolic label?
What is a legend plate?
What is lamacoid material?
What is a lamacoid label?
What is phenolic plastic?
Is phenolic waterproof?
Is phenolic heat resistant?
What is phenolic plastic used for?
What is a phenolic tag?
Definitions and General Information
If you're new to the world of custom-engraved labels and tags, here's some useful information to help you get started:
Phenolic definition
Phenolic labels definition
Phenolics pronunciation
Phenolic plastic
Phenolic material
Lamacoid material
Lamacoid vs. phenolic vs. plastic
Legend plate definition
Manufacturing and Supply
Benchmark Home Services Inc. takes pride in being a leading manufacturer and supplier of engraved labels, tags, and nameplates. We offer:
Control panel labels
Premium Engraving Plastic
Engraved tags and nameplates
Engraved laminated plastic labels
Control panel nameplates
Engraved electrical labels & panel plates
Engraved plastic equipment tags
Phenolic legend plates
We proudly serve the Seattle area and the entire Pacific Northwest, offering label printing, custom labels, and more:
Northwest tags
Label printing Seattle
Custom labels Seattle
Northwest label Seattle
Advanced labels NW
Phenolic labels online
Custom phenolic labels
Electrical phenolic labels
Engraved phenolic labels
Phenolic label submittal
Top-Notch Customization and Engraving Services
Benchmark Home Services Inc. is committed to delivering top-notch customization and engraving services that meet the highest industry standards. Our team of experienced professionals is dedicated to providing unparalleled customer service and ensuring your complete satisfaction. Whether you need custom engraved phenolic labels, legend plates, or lamacoid tags, we have the expertise and resources to fulfill your requirements.
---
Our user-friendly online platform makes it easy for you to place an order for custom labels and tags. Simply select the desired product, choose the material, provide the necessary specifications, and our skilled team will take care of the rest. Our fast turnaround times and competitive pricing ensure that you receive the best value for your investment.
---
At Benchmark Home Services Inc., we continually strive to stay ahead of the curve by adopting the latest engraving technologies and techniques. This enables us to deliver high-quality, durable, and precise custom-engraved labels and tags that exceed your expectations.
---
So, when you think of customization and engraving services, think Benchmark Home Services Inc. We look forward to working with you and being your trusted partner for all your custom engraved label and tag needs. Contact us today to learn more about our services and discover the Benchmark Home Services Inc. difference.
Additional Services Below
Benchmark Home Services Inc.
1003 South 197th Street, Des Moines, Washington 98148, United States
WA State Licenses BENCHHS818NT and BENCHHS812NZ
5/5 Based on 30 Reviews
Discover Phenolic labels and engraving services in Western WA and Puget Sound. top-notch, personalized services BHS Inc.. 206-717-5076