Burien's Best Residential Electricians
Located in the heart of Burien, WA, we stand as the beacon of electrical solutions. Our handpicked team of top-rated electrical contractors has been illuminating homes and businesses for over a decade. With a blend of tradition and innovation, we tailor our services to your unique needs.
Why Burien Trusts Our Electrical Contractors?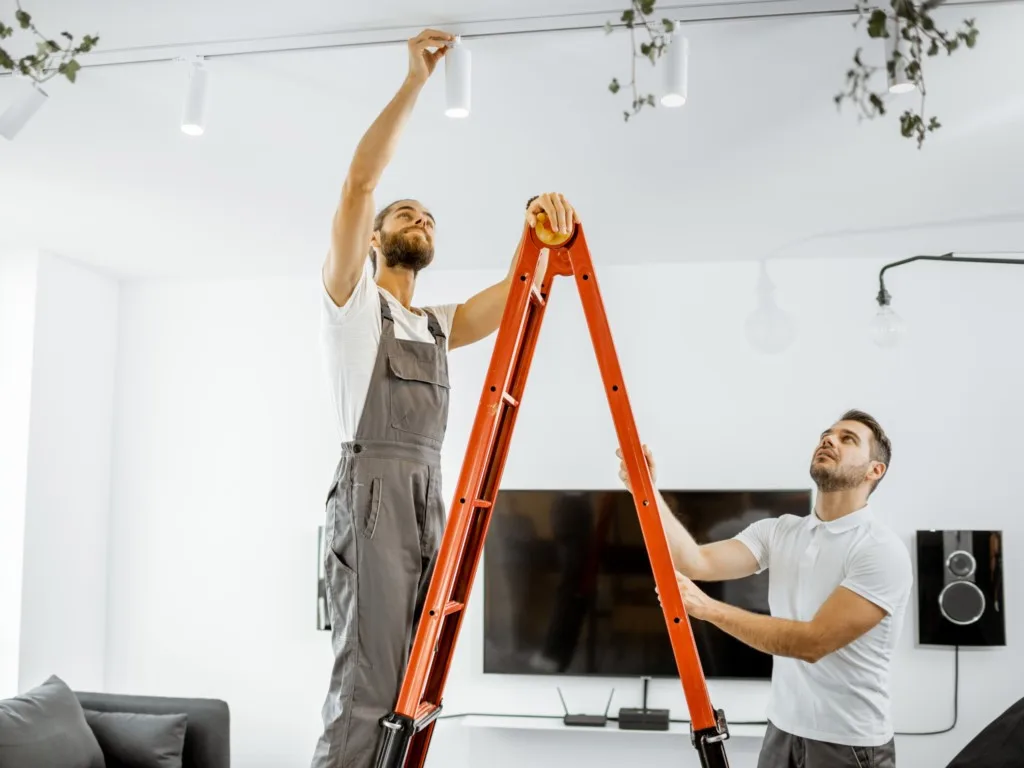 As a local Burien Electrical Contractors, we believe that electricity is more than just wires and switches—it's the pulse of your home or business. Here's why we are the first choice for many:
Expertise Rooted in Experience: With an average team experience of 15 years, we've seen it all and fixed it all.
Safety Above All: Adherence to international safety standards ensures your property and its occupants are always safe.
Transparent Pricing: No hidden charges. We believe in honest work and honest pricing.
Eco-friendly Solutions: We prioritize green solutions that not only save power but also protect our beautiful planet.
Services Tailored to Your Electrical Needs
Burien Residential Electric Services: Our dedicated residential team specializes in everything from installing elegant chandeliers to setting up advanced home automation systems. We understand that every home has a unique character, and our solutions reflect just that.
Commercial Electric Services: Businesses in Downtown Burien choose us for our punctuality and precision. Be it regular maintenance or setting up intricate electrical systems for your office, mall, or workshop; we ensure minimal disruption and maximum efficiency.
Emergency Electrical Repairs: Electrical emergencies wait for no one. That's why we offer 24/7 services, ensuring a skilled electrician reaches you within the hour. We're here to restore normalcy with speed and expertise.
Let's Electrify Your Next Project Together!
Building a new home? Renovating your office? Rewiring your home? Or just need an electrical health check? Whatever your electrical requirements, we're excited to be part of your journey. Begin a conversation with us today, and let's co-create electrical magic.
Used Benchmark to get a new outlet installed outside. They were able to get me on the schedule quickly, which has been hard to find lately. Communication via email was very responsive and easy. They showed up right on time for our appointment and accomplished the work very quickly. Install went in great and it works perfectly. When accomplishing the work, for safety reasons they had to turn off my heat pump, and forgot to turn it back on before leaving. They were able to make everything right very quickly and easily and I appreciated they're communication. Would not hesitate to use them again for work.
Summary: High quality workmanship, courteous, clean, and flexible. Story: I decided that I wanted to relocate my laundry room and water heater from inside the house to outside in the garage. Doing this would require relocating (2) 240v circuits and (1) 120v circuit, so I started looking for an electrician to come over and quote the project. I called a couple of the larger companies in the Seattle metro area that advertise on TV but they all wanted me to pay a fee just for them to come out and quote. I start searching for local companies and found Benchmark Home Services Inc. I connected with Ed and explained what I was looking to have done, and he said he'd be able to stop by same day to walk the potential job site and talk about possibilities. Ed arrived at our agreed meeting time, evaluated what I was looking to have done (including a new idea to add an outlet to the bathroom) and said he'd send over a formal quote. I received the detailed quote shortly thereafter and agreed to have his company do the work. They worked with me on scheduling to try and coordinate the timing with the plumber so that we wouldn't be without hot water. On the planned day of the installation, my father had a medical event that required my assistance. Ed and his team were very understanding and accommodated this unforeseen event by saying they could try the following day. The crew showed up the next day, talked me through what they were going to do, asked important questions (e.g. kids and/or animals) and got to work. When coming inside, they took off their shoes before laying down the temporary tarps for walkways where they'd work. The workmanship was high quality, and the job site cleanup performed before leaving was equally as impressive. Besides detailed vacuuming, they wiped down all surfaces they touched including the painted exterior door to the panel - no dark spots or fingerprints. I will recommend BHS to any family or friends if they need to get electrical work done, and will undoubtedly call them for all of my future needs.
The electrician was very professional in making sure he was diagnosing the problem correctly and when the replacement part was not available, he went ahead and fixed it for me, and even dropped it off the next day! I really appreciated his helpfulness and professionalism. He really took the extra step to help me fix the problem!
Hands down one of the most professional group of people that I have ever had the pleasure of working with. Benchmark has taken care of our business electrical needs and our home remodel projects for years and have not let us down. Benchmark maintains strict quality control, making sure things are executed to a high standard and always on schedule. Ed is very knowledgeable, communicative, trustworthy, and always a pleasure to work with. As a general contractor, I always recommend Benchmark to my clients. I know that my clients will be in good hands and the electrical process will be as smooth as possible! I would highly recommend them.
I needed phenolic tags for an e-house urgently and Ed was able to facilitate my last minute request promptly. They came out great and was able to meet the timeline. Thanks Ed!
I had an emergency with my main panel in my home and Mr. Hlavacek responded almost immediately to my email. This was during the week of the heat wave and they were, understandably, busy. Mr. Hlavacek and Kirill fit me into their very busy schedule and had me fixed up in a jiffy! I plan to hire them in the future for more projects!! 10 out of 10
Ed and his team did a great job! He was super patient walking through the entire process and took a huge load off our plate by working directly with our contractor. The final product came out great and his team was always on time and respectful of our space. I wouldn't hesitate to go with Benchmark the next time i need anything electrical done and will be recommending his team to my friends.
Very quick response! Delivered on time!
Benchmark Home Services did a phenomenal job installing outdoor lighting for our home. Our home is not easier to navigate at night, but looks very nice.
Comprehensive Electrical Services by BHS Inc
BHS Inc. has a stellar reputation as a top-rated, affordable, and fast-response electrician in Burien, WA, providing exceptional customer service and quality workmanship.
Fast-Response Residential Electrical Services
From minor repairs to extensive home renovations, BHS Inc.'s skilled residential electricians provide safe and reliable electrical systems for your home, responding quickly to your needs, and offering services like landscape lighting installation, dedicated circuit installations, panel upgrades, and 200A service upgrades. If it runs on electricity we fix it.
Commercial Electrical Services: Powering Business
BHS Inc. understands the unique electrical requirements of businesses in Burien, WA, and offers reliable, cost-effective solutions tailored to their needs, including commercial electrical services for office buildings, retail stores, and industrial facilities with an emphasis on energy management and code compliance.
Choose BHS Inc: Your Local, Fast-Response, and Comprehensive Electrical Pro
BHS Inc. is committed to safety, professionalism, and expertise in handling a wide range of electrical projects, from rewiring historical buildings to installing cutting-edge smart home automation systems. When you choose BHS Inc. as your local, fast-response, and comprehensive electrician in Burien, you can be confident that your electrical needs are in capable hands.
BHS Inc.'s Dedication to Professionalism and Excellence Electrical Design
Our team of certified electricians is dedicated to staying current with the latest electrical innovations and techniques, ensuring that we deliver unmatched services to our valued customers. We prioritize safety, customer satisfaction, and a commitment to providing quality workmanship on every project we undertake.
How to Choose a Reputable Electrician
Selecting a trustworthy electrician is crucial for safety and satisfaction. Research and compare options when looking for an electrician in Burien. The Better Business Bureau (BBB) is a reliable source for the reputation and reviews of local electricians. Visit the BBB's page for electricians in Burien at https://www.bbb.org/us/wa/burien/category/electrician to explore more options and make an informed decision. Another great resource is the National Electrical Contractors Association (NECA) website, where you can find information on industry best practices and guidelines at https://www.necanet.org/.
Burien: A City of Wonders
Nestled between the bustle of Seattle and the serene waters of Puget Sound lies the enchanting city of Burien. This city is not just any ordinary place; it's a magical amalgam of diverse neighborhoods, each with its own whimsical charm and captivating tales.
Our dedicated team of electricians proudly serves a broad spectrum of areas within Burien, WA. From the bustling streets of Downtown Burien to the serene surroundings of Lake Burien, we've got you covered. Our expertise extends to neighborhoods such as Beverly Park, Boulevard Park, and Chelsea Park. The residents of Evansville, Five Corners, and Gregory Heights have come to rely on our exceptional service. Beyond that, we're also the preferred choice in areas like Inglesea, Manhattan, Maplewild, and Salmon Creek. The communities of Seahurst, Shorewood, Southern Heights, and Sunnydale trust our electricians to light up their homes and businesses. Whether you're nestled in the coastal beauty of Three Tree Point or any of our specialized service regions like Highline, our electricians are just a call away, ready to cater to all your electrical needs.
Get in Touch with BHS Inc. Today
If you're in need of an affordable, reliable, and comprehensive electrician in Burien, WA look no further than BHS Inc. Our wide range of services includes troubleshooting and repairs, electrical panel upgrades and replacements, indoor and outdoor lighting solutions, surge protection, circuit breaker services, ceiling fan installation and repair, outlet and switch services, home electrical safety inspections, smoke and carbon monoxide detector services, wiring and rewiring services, emergency generator installation and maintenance, EV charger installation, smart home automation, and commercial electrical services.
Other Communities We Serve
Burien | Des Moines | Normandy Park | Federal Way | Seattle | West Seattle | Kent | Renton
Top-Rated Burien Electrician & Electrical Repair Services, Burien Electrical Contractors & Residential Electricians by BHS Inc. 206-717-5076