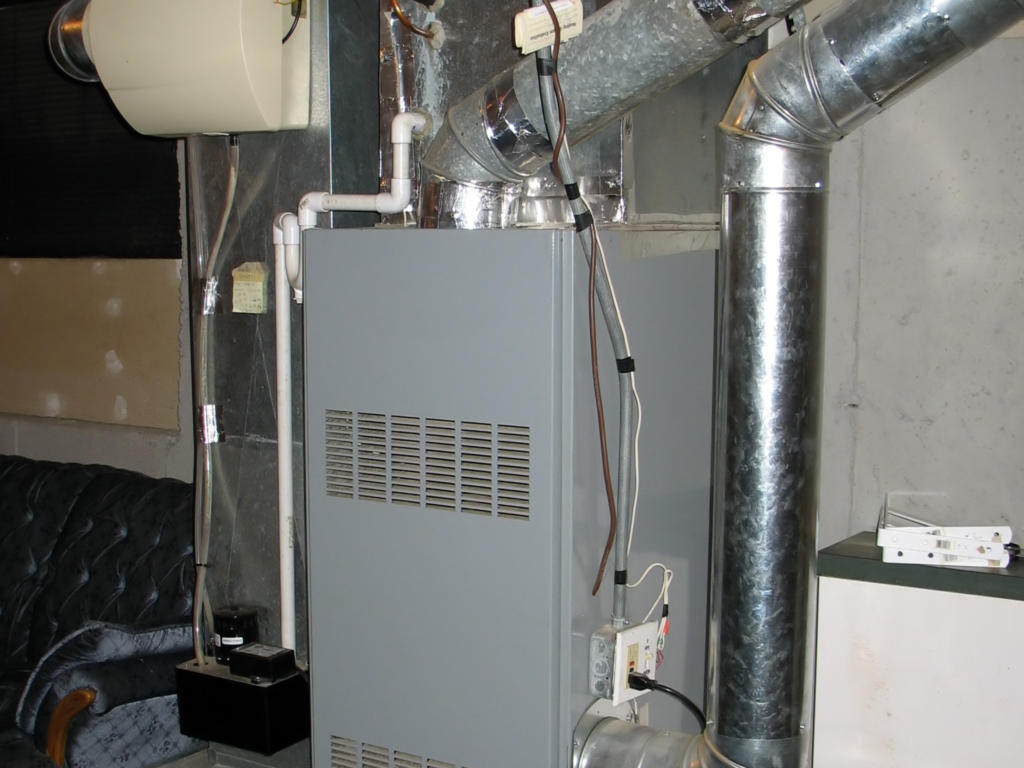 Your Trusted Furnace Repair Provider in Burien, WA
When it comes to reliable and professional furnace repair in Burien, WA, Benchmark Seattle is the name you can trust. Our team of certified technicians is dedicated to providing top-notch furnace repair, maintenance, and installation services to ensure your home stays warm and comfortable, especially during those chilly Washington winters.
High-Quality Furnace Repair & Installation Services in Burien, WA
We specialize in a variety of furnace services including:
Furnace Repair: Whether it's a minor fix or a major repair, we have the expertise to get your furnace back in working order.
Furnace Installation: Looking to replace your old furnace? We provide expert installation services to ensure your new furnace operates efficiently.
Furnace Maintenance: Regular maintenance can extend the lifespan of your furnace and ensure it operates efficiently.
Used Benchmark to get a new outlet installed outside. They were able to get me on the schedule quickly, which has been hard to find lately. Communication via email was very responsive and easy. They showed up right on time for our appointment and accomplished the work very quickly. Install went in great and it works perfectly. When accomplishing the work, for safety reasons they had to turn off my heat pump, and forgot to turn it back on before leaving. They were able to make everything right very quickly and easily and I appreciated they're communication. Would not hesitate to use them again for work.
Summary: High quality workmanship, courteous, clean, and flexible. Story: I decided that I wanted to relocate my laundry room and water heater from inside the house to outside in the garage. Doing this would require relocating (2) 240v circuits and (1) 120v circuit, so I started looking for an electrician to come over and quote the project. I called a couple of the larger companies in the Seattle metro area that advertise on TV but they all wanted me to pay a fee just for them to come out and quote. I start searching for local companies and found Benchmark Home Services Inc. I connected with Ed and explained what I was looking to have done, and he said he'd be able to stop by same day to walk the potential job site and talk about possibilities. Ed arrived at our agreed meeting time, evaluated what I was looking to have done (including a new idea to add an outlet to the bathroom) and said he'd send over a formal quote. I received the detailed quote shortly thereafter and agreed to have his company do the work. They worked with me on scheduling to try and coordinate the timing with the plumber so that we wouldn't be without hot water. On the planned day of the installation, my father had a medical event that required my assistance. Ed and his team were very understanding and accommodated this unforeseen event by saying they could try the following day. The crew showed up the next day, talked me through what they were going to do, asked important questions (e.g. kids and/or animals) and got to work. When coming inside, they took off their shoes before laying down the temporary tarps for walkways where they'd work. The workmanship was high quality, and the job site cleanup performed before leaving was equally as impressive. Besides detailed vacuuming, they wiped down all surfaces they touched including the painted exterior door to the panel - no dark spots or fingerprints. I will recommend BHS to any family or friends if they need to get electrical work done, and will undoubtedly call them for all of my future needs.
The electrician was very professional in making sure he was diagnosing the problem correctly and when the replacement part was not available, he went ahead and fixed it for me, and even dropped it off the next day! I really appreciated his helpfulness and professionalism. He really took the extra step to help me fix the problem!
Hands down one of the most professional group of people that I have ever had the pleasure of working with. Benchmark has taken care of our business electrical needs and our home remodel projects for years and have not let us down. Benchmark maintains strict quality control, making sure things are executed to a high standard and always on schedule. Ed is very knowledgeable, communicative, trustworthy, and always a pleasure to work with. As a general contractor, I always recommend Benchmark to my clients. I know that my clients will be in good hands and the electrical process will be as smooth as possible! I would highly recommend them.
I needed phenolic tags for an e-house urgently and Ed was able to facilitate my last minute request promptly. They came out great and was able to meet the timeline. Thanks Ed!
I had an emergency with my main panel in my home and Mr. Hlavacek responded almost immediately to my email. This was during the week of the heat wave and they were, understandably, busy. Mr. Hlavacek and Kirill fit me into their very busy schedule and had me fixed up in a jiffy! I plan to hire them in the future for more projects!! 10 out of 10
Ed and his team did a great job! He was super patient walking through the entire process and took a huge load off our plate by working directly with our contractor. The final product came out great and his team was always on time and respectful of our space. I wouldn't hesitate to go with Benchmark the next time i need anything electrical done and will be recommending his team to my friends.
Very quick response! Delivered on time!
Benchmark Home Services did a phenomenal job installing outdoor lighting for our home. Our home is not easier to navigate at night, but looks very nice.
Expert Furnace Repair & Maintenance Solutions in Burien
Our highly skilled technicians can diagnose and address a wide range of furnace issues, such as ignition problems, inadequate heating, noisy operation, and frequent cycling.
Reliable Burien Furnace Installation & Replacement Services
Choose Benchmark Home Service Inc. for seamless furnace installation and replacement services in Burien, WA. Our certified technicians ensure your heating system remains in peak condition year-round.
Efficient Gas Furnace & Electric Furnace Services in Burien
Whether you have a gas or electric furnace, our team is equipped to handle all types of furnace systems, providing top-notch services to keep your home warm and comfortable all winter.
Trusted Heating Solutions: Heat Pump & Ductless Mini Split Services in Burien
In addition to furnace services, we specialize in heat pump and ductless mini split installation and repair, offering energy-efficient heating and cooling solutions for your home.
Improve Indoor Air Quality with Our Comprehensive HVAC Services in Burien, WA
Breathe easier and live healthier with our air quality solutions, including air purification and humidity control services.
Common Furnace Issues We Repair
Our skilled technicians have experience in diagnosing and repairing a variety of furnace issues, including:
Ignition problems: If your furnace fails to ignite or stay lit, our technicians can quickly identify and resolve the issue.
Inadequate heating: If your furnace isn't producing enough heat, we can diagnose the problem and provide the necessary repairs to restore proper heating.
Noisy operation: Unusual noises from your furnace can indicate a problem. Our technicians can pinpoint the source and resolve the issue.
Frequent cycling: If your furnace is cycling on and off too frequently, we can diagnose and repair the issue to ensure consistent heating.
Why Choose Benchmark Home Service Inc. for Furnace Repair in Burien?
Experienced Technicians: Our team of certified and skilled technicians is committed to providing quality furnace repair services and ensuring your satisfaction.
Prompt Service: We understand the importance of timely furnace repair, which is why we strive to respond quickly and efficiently to your requests.
Transparent Pricing: We provide upfront and transparent pricing, so you know exactly what to expect before we begin any work.
Customer-Centric Approach: At Benchmark Home Service Inc., our customers are our top priority. We go above and beyond to deliver exceptional service and exceed your expectations.
Choosing a Reputable and Affordable Furnace Repair Technician in Burien
At BHS Inc, we understand that selecting a reliable and trustworthy furnace repair technician in Burien is crucial for the safety and satisfaction of our clients. As a responsible service provider, we encourage you to research and compare options when looking for a furnace repair technician in Burien. The Better Business Bureau (BBB) is a reliable source to check for the reputation and reviews of local furnace repair technicians in Burien. Visit the BBB's page for Heating System Repair at https://www.bbb.org/us/wa/burien/category/heating-system-repair to explore more options and make an informed decision.
Customer-Centric Furnace Services in Burien: Satisfaction Guaranteed
Your satisfaction is our top priority. We go above and beyond to deliver exceptional furnace repair, installation, and maintenance services, responding quickly and effectively to your needs.
Don't wait until the cold sets in to care for your furnace needs. Contact Benchmark Home Service Inc. today at 206-717-5076 to schedule an appointment or learn more about our comprehensive furnace services in Burien, WA. Let our trusted HVAC experts Keep your house snug and warm during the colder winter season..
Communities We Serve
Burien | Des Moines | Normandy Park | Federal Way | Seattle | West Seattle | Kent | Renton
Furnace Repair services in Burien, including furnace installation & replacement, and maintenance. Our team specializes in HVAC. 206-717-5076.